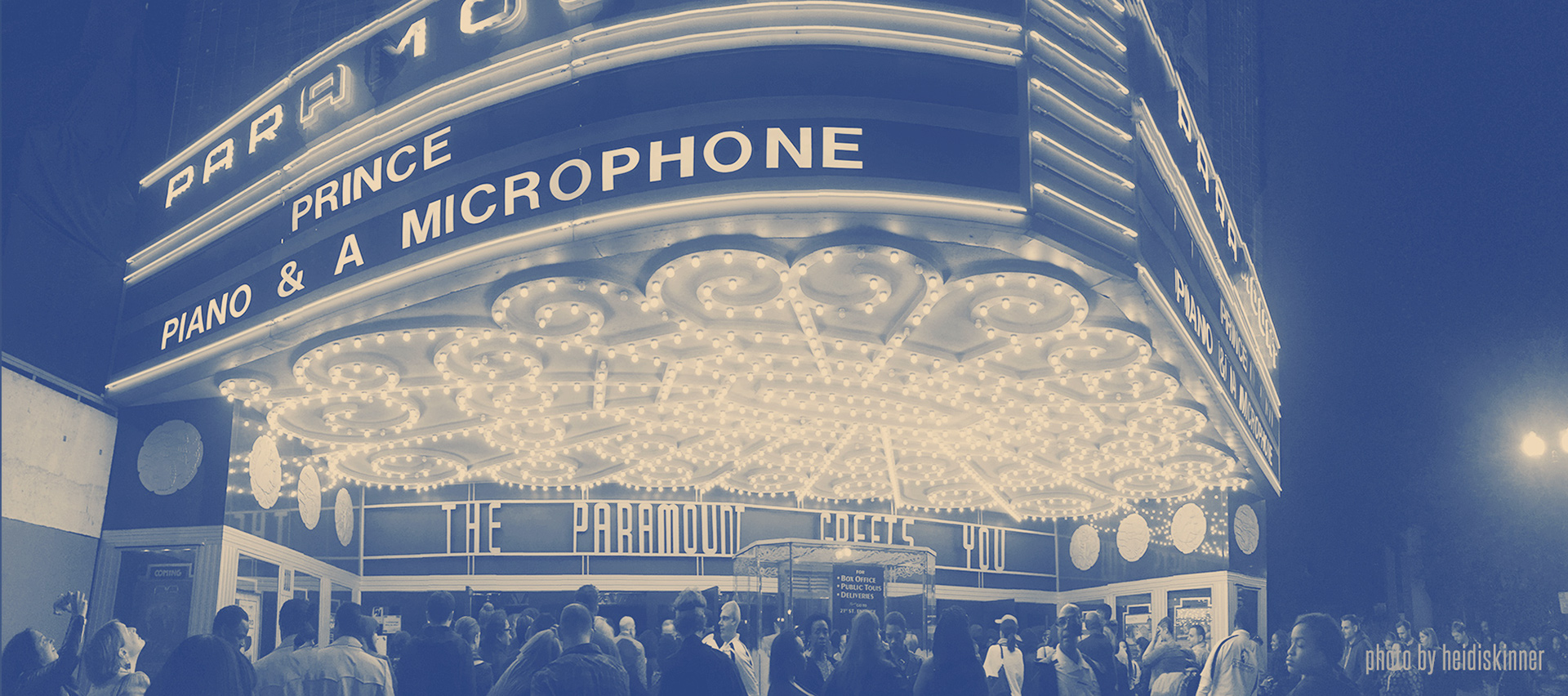 Prince. His Piano. And a Paramount Performance.
Not a detailed setlist review, but a short recounting of the sensory journey of Sunday night.
Even with it being one of his shortest shows, the Piano & a Mic performance was the closest thing to perfection that I've seen from Prince. The musicianship, the authenticity, and the weaving of emotions made it evident that we were witnessing something special. Stripped of the entourage, he poured every blood vessel, every ounce of himself onto the Paramount stage.
With the recent passing of Denise Matthews, you could sense a somewhat delicate and somber vibe in the room. It made you tune your focus and breathe the air more carefully. Apollonia, Susan M., Jill and a couple others were sitting 2 rows up from me. Seeing stars (still gorgeous as ever) from a movie that I've watched more times than there are Grey's Anatomy episodes left me speechless.
The night began and ended with a fully redefined meaning of medley. He stretched the musical crevasse, played songs from his first album to his last. Covered Bob Marley and Joni Mitchell. Kicked his seat across the room. Stood and danced, fingers still on the keys. He hammed it up and slowed it down. He talked and joked. Not as much as some of his other recent piano shows, but I think that was to be expected. He gave a lot and we gave it back. His expressed gratitude towards the audience made you feel as essential to the music as the soundboard itself.
Sometimes it Snows in April, The Love We Make, Waiting in Vain, I Don't Trust You Anymore to name a few, all had new meaning on this night. If you were listening carefully, you'd catch a side-splitting remark, or a quiet confession. "You were my favorite protégé" and "she's gone" were utterances slipped between songs that made you wonder if you should leave the room and let him have his privacy. But there you were. Glued to your seat, clenching your chest.
This is what art looks like without pyrotechnic smoke and mirrors. What it sounds like without a voice-corrected mic. What it feels like when someone daringly delivers their heart through the hammering of ivory keys.
He had more people crying, laughing, standing up, sitting down and (almost) kneeling in cadence than an orthodox priest at an Italian-Catholic wedding. And if you think a piano show is too tame and jazzy a pace for an adrenaline rushed rock star, I assure you, nothing was missing from this show.
It's a testament to those who still confine Prince to a rocker who exploited the 80s with mere sexual provocation just for attention. It's a testament because—News Flash— he still has our attention… and from a piano bench!
He ended the night allowing us to sing the last song. He even left the building with the crowd still on their feet, chanting "Free, free yourself, got to free yourself…" and clapping until our hands were sore. Staring at the empty stage made you think about where you were in that moment — now leap day, the last day of Black History month, the day of Vanity's funeral, in the heart of Oakland at Paramount Theater which for those few moments was transformed into much more than a music venue. We chanted until gratitude took the place of desire. Until we let go of all expectations...
Expectations like, 'is he coming back out for an encore?' No, no he's not. "Will he play at the afterparty?" No. But he and Apollonia will show up and watch you dance from the balcony until 3am.
So don't be fooled by the clean, curse-free act. No one is safe. He will still steal your heart. He will taunt you with melody and adjure whatever response his music requires of you. And you'll leave both completely satisfied, and somehow aching for more.
This to me is Prince, the Artist. 💜